Home Sweet Home: Exploring the Cottages and Residences of Heart's Delight Farm
by Carleen Provost, 2023 Joseph C Burke and Joan T. Burke Scholarship Recipient
Introduction
Heart's Delight Farm was not only home to William and Alice Miner, it also provided accommodations for many of Miner's employees and their families. Over the years as Miner expanded his farm, he purchased neighboring lands, which often came with the family home. Naturally, he often renovated these houses and the ones he built into bigger and better ones to house his workmen.
For buildings that have yet to be built, Miner called upon his long-time friend and engineer Frederick B. Townsend to design the blueprints for his buildings. The early 1900s experienced an abundance of different types of architectural styles. Eclectic houses, or buildings that take ideas and traits from multiple sources for example, rose in popularity during the late 1800s and lasted well into the 1900s. Several of Miner's cottages and other structures were/are a mixture of several different styles.
National Folk

came about with the introduction of the railroad, bringing cheap mass-produced materials to build homes. Often simplistic in nature, one type, the gable-front-and-wing house showcases a roofed porch nestled in the corner of the 'L'. It was not uncommon for the front wing to have higher roofing than the side wing.

Federal

buildings are easily recognizable by their symmetrical and plain brick façade.

Queen Anne

style is known for its irregularly shaped pitched roofing, turrets, and decorative detailed porch supports either in the spindlework form or free classic form.

Shingle

style is easily recognizable with its walls made up of continuous wooden shingles and asymmetrical built with irregular pitched roofing that often have multi-level eaves.

Colonial Revival

is known for gambrel roofing and simple classical style. Buildings are often symmetrical with simple wooden columns with a matching base and capital and triangular pediments on gable windows.

Spanish Mission

style is known for the shaped Mission dormer or roof parapets, their widely overhanging eaves, top-rounded windows, and the wall surface is usually a smooth stucco.

Prairie

style originated in Chicago in the early 1900s and are seen with low pitched roofs with wide eaves that emphasize horizontal lines.

Craftsman

houses are known for low pitched, gabled roofs with wide eaves braced by decorative brackets and roofed porches supported by square columns.
Naming a home often takes a lot of thought. For many of his properties, Miner took inspiration from three main ideas: geographical locations; whether the house (and land) was connected to a specific family; and evocative wording that entices a person into connecting it with positive emotions or thoughts, such as Heart's Delight Cottage or Harmony Hall.
The Main Farm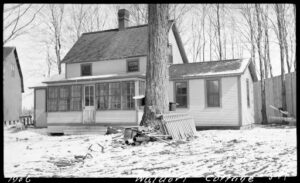 Just to the north of the main farm area, between the dairy barns and feed bunks, laid both Waldorf and Maplewood Cottages. The land they stood upon was purchased in 1904. Maplewood Cottage, built in 1905, was among the first to house workmen and staff. Unfortunately, the cottage is gone now, but images show the architectural style to be a Shingle and Prairie mixture. Images of the inside preserve the cozy atmosphere of the home.
Just a short walk northwest, Waldorf was built a year later for additional housing for farm staff and workmen. It can be suggested that it was named after the original Waldorf-Astoria hotel in N.Y.C., a place that Miner might have visited. Although Waldorf Cottage no longer exists, photos suggest that it was built with the Colonial Revival style in mind, though it started as a small and simple farm house. 
To the west of the main farm area where the calf barns are today, Overlook Cottage once stood proudly looking over a melon field. It is unclear if the land that it was built upon was bought in 1904 or was part of the original Miner farm. Either way, Overlook finished construction in 1904 as another boarding house for employees. Photos show that this former building was in the Colonial Revival style.
Just south of Heart's Delight Cottage and Harmony Hall, perched alongside Miner Farm Road, the entrepreneur built three beautiful cottages. This land was bought in 1902 or in 1904.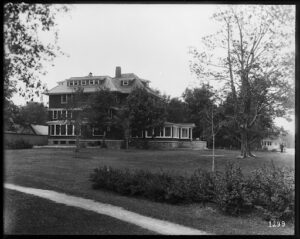 Woodside Cottage, located just west of Miner Institute, was built in 1906 for a department head and his family. This now privately owned home was influenced by Colonial Revival and Shingle-style architecture. It may have been named Woodside as the house borders Cathedral Woods, a popular drive on Heart's Delight Farm.
Further east on the same road, a Shingle and Prairie-type house once stood called Shadynook. Built in 1904, it was home to a department head (possibly the poultry manager) and other workmen. It had a large hennery directly behind the house. 
Happy Hours was the home of Aunt Huldah and her second husband George Lambard. It was constructed in a Queen Anne style in 1904 for them to run as a boarding house. 1910 census records show that Huldah's sister Kate, and farm employees George Terrell (superintendent) and Philip Gokey (carpenter) were boarders here. 1905 census records show that Clarence Hamilton also lived here briefly prior to Shadowlawn being built. Located west of Miner Institute on Miner Farm Road, Happy Hours is now a privately owned residence. Interestingly to note, William Miner had the Chazy-Sciota Road moved to avoid separating these cottages from the main farm.
Shadowlawn, or the Manager's cottage, was built for the farm manager Clarence Hamilton and family: wife Wilhelmina, son John, and daughter Margaret. Despite the land being bought in 1902 as part of the Ladd purchase, the cottage was among the last to be built in 1914. The cottage, boasting a mixture of Free-Classic Queen Anne and Shingle architecture, sits south of the core farm area of Miner Institute.
Nearby, Sunshine Cottage or The Fish Hatchery as it is also called, was erected between 1906 and 1908 to house the fish hatchery manager. Charles Clausen, a longtime friend and employee to Miner lived here with his wife Linnie and daughters Dorothy, Florence, and Vera. Standing on land that was part of the Ladd purchase, the cottage is part of Miner Institute's property. The architecture is a mix of beautiful Prairie, Shingle and Craftsman-styles.
Ridge Road
To the east of the main farm on Ridge Road, two cottages were once homes to Miner employees. Bellevue, or the Willett-Abare Cottage, was built sometime prior to 1909. Miner had bought the land from Henry Abare as part of the Willette purchase in 1906. It earned its name of "beautiful view" with its National style architecture and Craftsmen add-ons. Bellevue was located in the vicinity of North Star Industries property.
Just a short distance north on the other side of the road, stood the Ransom Cottage or the Ransome-Brown Cottage. Bought from Lafayette Merrihew in the Ransom purchase in 1906, this Colonial Revival and Shingle-type cottage was made in 1908 or perhaps even earlier. While the cottage no longer exists, its land have been retained by Miner Institute.
Heading towards Macadam Road, drivers will pass by a privately owned home once known as the Talford Cottage. The house was already in existence when Miner purchased the land from Henry Talford in 1906. It was originally a Federal style home, however it was later renovated into a Colonial Revival structure for employees.
Just past Macadam Road on Ridge Road stands the Lapierre or Jim Wilson's Cottage. The land was procured from Darwin and Frances Lapierre in late 1906 and is now owned by NYS Department of Environment Conservation. This Federal style home with Craftsman add-ons is easily recognizable and provided evidence shows that the building must have already existed at time purchased with later photos displaying the add-ons. It was used for housing employees.
Just before the Lake Alice parking lot on Ridge Road, a home once stood called the Sheldon, Supernault, or Supernaw Cottage. The land was acquired sometime between February of 1906 and March of 1907 through either the William Leggett (as part of the Sheldon property) or Napoleon Supernaw purchase. The architectural style shows a National or even Pre-Railroad look dating the building as prior to 1906.
Flowing through Ridge Road and Macadam Road was a small river called Tracy Brook. A small powerhouse was built on the waterway around 1907/8 after the land was bought in 1906 and served as the initial water power installation for the farm. Plans for a cottage for the powerhouse operator were made but the Queen Anne structure remained as it was built. It no longer exists and the land belongs to the DEC.
Village of Chazy
The Lodge or the P.F. North home in Chazy was constructed prior to 1909 after Miner paid Philetus and Sarah North for the land in May of 1908. Once home to a department head or other Miner employees, the Colonial Revival and Prairie-style house is now privately owned.
The towering and eclectic mishmash of building parts situated in the heart of Chazy known as Gray Gables was the home to the Chazy Central Rural School faculty and staff. In the 1960s the building was publicly sold and turned into apartments. Built in 1920/1 with the annex added on between 1921 and 1925, Gray Gables was a departure of elegance usually seen in Townsend's works. A heated underground tunnel ran from the building to the school. Interestingly to note, the old Chazy Union school was used as the front part of Gray Gables.
On the North Farm Road where a bend in the Little Chazy River is nearest to the road, a farm called Riverside once existed. After buying the area from Egbert Everest as part of the North Estate purchase in June of 1908, Miner was quick to build a Colonial Revival, Queen Anne and Craftsman-type cottage there in 1909. Riverside Farm and Cottage no longer exist.
In the village a beautiful Queen Anne and Craftsman-style house known as Hillbrook Cottage was constructed over the Great Chazy River. This cottage was home to Bertha and Louise Trainer, Alice's sisters. Hillbrook also served as a powerhouse known as the Chazy or Village Plant. The top two floors were reserved for living quarters, one floor for the sisters and the other being rented out. 1920 census records show that Presbyterian minister Andrew Kay stayed here alongside Maud Burnham, a private servant; Alice Kinsley, the housekeeper; and William Maier, a public school teacher. The river property was purchased in early 1909 with the cottage being built shortly thereafter. Alice Miner would often take supper here with her sisters. It is now privately owned.
Miner's other powerhouses, usually in a Spanish Mission style, such as McGregor and LaSell, were also home to Miner employees and their families. While McGregor still stands, LaSell, unfortunately, is in ruins.
Afterthought
As Miner expanded, so did his collection of properties and homes. After his death, the farm was consolidated and many of these estates were sold. Although it is unfortunate that some of these buildings are no longer around, photographs preserve their beauty. It is difficult to know for certain (outside a select few) exactly who lived in these cottages during William Miner's time. With house numbers not appearing until the mid-century, and a limited number of farm records remaining, we can only make assumptions on where Miner farm employees lived with the help of census records.
Special thanks to Amy Bedard and Ellen Adams