William Miner: Engineering a Future in the Railroad Industry
by Carleen Provost, 2023 Joseph C Burke and Joan T. Burke Scholarship Recipient
Gaining the Experience
When William Miner left the family farm on December 27, 1880 to head west to Lafayette, Indiana, no one knew what he would become in the following years. His brother-in-law, John Mitchell, found him a job as a bridge carpenter making $2.50/hr. at the Wabash Railway. During this time, Miner learned all that he could about the railroad industry, from the bridges the Wabash used, to the tracks and cars, to the locomotive's engine, during his travels for work.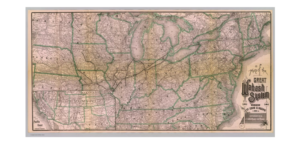 In 1882 Miner sought a machinist apprenticeship with his Uncle Luther Miner at Prey Manufacturing Company (1) in Minneapolis. Miner worked for Prey's for about four years while also attending night business school and then in a program for working artisans. This class on theoretical knowledge and mechanical drawing was combined with his hands-on apprenticeship, giving him vast experience in mechanical engineering (2).  
Miner later befriended Benjamin Masten, owner of Lafayette Car Works, during his time at Prey's. They offered him the job of chief draftsman at their company in November of 1887. Here he learned not only the different designs of railroad cars but also their strengths and weaknesses. Through this position, Miner further expanded his network of connections on who was buying what and for how much.  
A year later company president Benjamin Masten was so impressed with his work that he was soon put in charge of estimating and mechanical details for the Lima, Ohio, Car Works division as superintendent. At Lima, the plant focused on railway car repairs, but Masten wanted the plant, recently damaged by fire and never produced a single car, to turn out 100 cars per week (3). 
Miner rose to the challenge but came to the realization that it was a foolish endeavor; a major factor was the lack of competent builders. Miner also faced two worker strikes in 1889, where he voiced his dissatisfaction at those complaining, showing his lack of experience in handling rough-hardened men, men whose job was never guaranteed due to the unstable nature of the industry.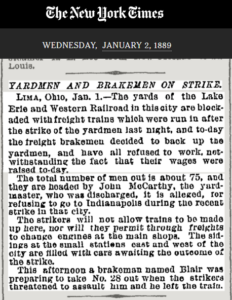 C.B. Hutchins and The Beginning of An Idea
Eventually, multiple reasons led Miner to leave Lima Car Works. From clashes with other department heads (4) to his boss's desperate demands for more cars, to the fall of Masten's company, it was clear that it was time to move on. Sometimes around 1889, he met C.B. Hutchins of the Hutchins Refrigerator Car Company. Hutchins had founded the California Fruit Transportation Company as a subsidiary. The refrigerator car was a relatively new invention and Hutchins later developed an improved version, pioneering in the use of refrigerated fruit transportation. In 1890, he offered Miner the Chicago-based position of mechanical superintendent. Later, Miner took charge of their equipment operation and maintenance department.  
Starting in the 1850s, the construction of railroads helped Chicago to become the largest rail hub and shipping port in the U.S. and a thriving center of international trade and commerce. It was, after all, the central point between the East and the West. 
Prior to, and during Miner's tenure at Hutchins, Miner noticed the CFTC was experiencing many draft gear failures on its cars resulting in heavy damage claims for fruit spoilage en route. 
What is a draft/draw gear? It is a device that cushions the compression and tension between railway cars. It is located behind the coupling, the device that links the cars together. Early ones made of wood were later replaced by steel and usually had only one spring which proved inadequate in preventing the cars from crashing into one another. 
This challenged Miner to create a spring draft rigging to overcome the problem, leading him eventually to obtain a patent for his Tandem Draft Rigging invention on October 20th, 1891. In the patent, he demonstrated that having two springs working in tandem, rather than one spring or two parallel springs, doubled the capacity of the gear to absorb shock between the cars.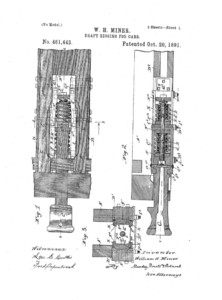 His draft gear invention became very effective at protecting the produce within the cars, enough that he later promoted his gear to other railway companies. The Chicago, NY & Boston Refrigerator Company was among the first to order the draft gear, buying 10 sets on June 7th, 1894.
To Wait, To Court, To Mourn
1893 brought about many changes to Miner's professional and personal life. Despite the budding interest in his new invention Miner continued to work for Hutchins selling their refrigerator cars while promoting his own gear on the side.  Not only was it the year that he met his "dearest" wife, Alice, but it was also the year of the Columbian Exposition in Chicago. An event that Miner was no doubt looking forward to attending.
However, it all took a turn for the worst in late 1893. His uncle John died, leaving Miner the family farm. His brother-in-law, John Mitchell, passed a year later, a devastating blow to an already grieving man. To top it all off, Miner also experienced the Panic of 1893, a major economic depression that lasted for about four years. The Panic affected everything from banks and farms to the railroad industry. This prevented Miner from being able to sell his gear as many railroads had defaulted and shut down.
His Own Business and the Incorporation of a Company
By 1896, interest was growing in his tandem gear. In most cases, patent holders would seek investors to manufacture their product, who would, in turn, demand the patent rights, but Miner instead licensed his patent out and the railroads themselves would manufacture it.
Eventually, Miner chose the Springfield Malleable Iron Company in Ohio to construct his device. However, they were slow at producing and shipping his gear and Miner had trouble getting the money from them, despite increasing demand.  
It was quite the moment when in February of 1897, The William H. Miner Company opened its doors in room 355 at The Rookery in Chicago, just four floors down from Hutchins's offices. During that first year Miner often had to borrow money for rent and other expenses (5) to keep the company going as he no longer had a stable income since he resigned from Hutchins early that year. 
By 1898, his tandem draft rigging was used by over 15,000 cars owned by 16 railroads and private car lines. By 1900, Miner had at least five patents (6) advancing his draft rigging gear. To advertise his draft rigging, he would write a series of letters, often including a photo, to railroad officials linking railroad-related events to car repair costs, inadequate draft gears, and loss of profit.
On November 29, 1902, he had his company incorporated with a capitalization of $100,000. As a man who rejected bureaucracy as a whole, he retained control of his small company by refusing to allow outsiders to become investors and remained cautious when making decisions. 
By this time, Miner obtained three more offices, hiring several full-time staff. While he traveled for business, he left a trio of women in charge to be his voice in his stead. At the company, these women proved themselves to be invaluable to Miner. Mrs. Nettie Goldsmith, who later became his vice president, was his eyes and ears. Miss Maude Back's job was arranging prices for the products, as well as being in charge of advertising. Miss Adele White was his secretary and bookkeeper. 
For his tandem draft gear, he settled for "good enough". Unlike the business on Heart's Delight Farm, Miner had to craft a balance between the quality of his railroad equipment and the cost of manufacturing, leading him to concentrate on a limited product line. In Chicago, Miner faced heavy competition, so profit was always on his mind. Miner also kept his company small, employing only 43 full-time people in 1909. 
Facing Competition and Manufacturing a Winner
As railroad trains became longer, bigger, and more powerful, Miner's draft gears were no longer "good enough" as cars shifted from being made out of wood to being made out of steel.
By 1910, friction draft gears, put out by competitors such as Westinghouse, Sessions, and Cardwell, reigned supreme in shock absorption. Older spring draft gears had originally absorbed the shock, but on the new steel cars it would often recoil, causing damage. Westinghouse's 1888 friction draft gear addressed this issue by having interlocking friction plates that rubbed against a fixed iron plate, producing the resistance necessary to take on the strain of train motion. His friction gear absorbed six to seven times more shock than spring gears but was expensive and problematic, leading railroad companies to stick with draft gears until they, in turn, became more trouble than what they were worth.
By the early 1900s, friction draft gears became more popular, forcing Miner to lay aside his draft gear to invent the tandem spring friction draft gear in 1904. 
With little experience in manufacturing friction draft gears, Miner consulted engineer John F. O'Connor to help him combine both the benefits of spring and friction elements to create the class A-1, and later the A-2 line around 1906; the first commercially successful fiction draft gear for Miner. They had anti-friction rollers of crucible steel that wedged against the friction plates. His new manufacturing company, The National Malleable Casting Company, started making these gears without delay.
Interestingly, Miner had begun scientifically testing railroad gear in 1902 and established testing labs in Buffalo, Chicago, and Montreal around 1908 to assess his gears against those of his competitors. Miner's A-18-S proudly became the highest attainment in draft gear design up until 1927 (7). It had a high capacity to take on the strain of car movement and had a lifespan of 15-25 years. 
Between the years 1901-1910, Miner and his company received at least 30 patents on tandem spring draft riggings. By 1917, close to two million railroad cars had or were still carrying two of his gears. Although Miner's spring and friction draft gears were his most known products, he and his company also produced various other railroad-related gear.
Advertisement for Miner Products
1915 and Beyond: Expansions and Threats
In 1915, a New York office was established on the thirtieth floor of the new Equitable Building on Broadway. The building also housed the Enterprise Railroad Equipment Company, a business that produced railroad car designs. Miner bought the company from Argyle Campbell in 1908 to meet the demands of the fast-changing railroad industry.
Naturally, over the following years, Miner had to face a number of threats to his company; from the infringement suits of Charles Nash, a long-time friend and employee, to governmental control of the railroads during WWI. Government interference meant that the purchase of all railroad equipment was in the hands of the Central Purchasing Committee, dealing a heavy blow to Miner's business. 
By 1920, the federal government had returned private control back to the railroads, allowing Miner to rebuild his company and expand his product lines. He continued to improve, manufacture, and test his gear to prove to buyers that his products were supreme. 
In 1923, W.H.Miner, Inc. was incorporated in the State of Delaware to facilitate the handling of the business and to create a charitable trust, the William H. Miner Foundation. However, with the rising costs of his multiple projects and charities, in addition to the devastating effects of the Great Depression, the Miner Foundation experienced a huge deficit in the 1930s, putting Miner's dream of an agriculture college on hold until 1951.
In the 1960s, the W.H. Miner Company became Miner Enterprises after splitting from the foundation and Heart's Delight Farm due to changes in tax laws. It is now based in Geneva, Illinois.
 Prey's opened in 1859 and closed in 1886 when the Minneapolis sawmill business collapsed due to the wood running out. 

 In the mid-1880s, mechanical apprenticeship (learning by doing) was the preferred way to become a mechanical engineer. But the gaining popularity of classes that provided theoretical and other practical approaches was swiftly gaining movement.

In comparison, the Lafayette plant only produced 78 cars and had more workers. 

 Miner held himself to a higher standard of ethics than these other men who only saw the dollar sign. He couldn't abide by flawed manufactured articles not made right which clashed with his job as superintendent. 

 Other expenses included his new wife, his wife's sisters, and Miner's own sister, Jottie, as well. After the death of her husband, Jottie relied on her brother financially.

 During the period between 1861–1994, the number of years that a patent was protected under the law was 17 years from the grant date. The only way to extend protection was to invent and patent an improvement to the originally patented invention.

 At the time, friction and tandem draft gear were made out of malleable iron tests proved wear resistant. Around 1926/27, draft gear that was created from malleable heat-resistant metal was replaced by heat-treated steel parts which provided better shock resistance and frictional work. 
To learn more about Miner Enterprises, please visit https://www.minerent.com/
Special thanks to Joseph Burke and his book, "William H. Miner: The Man and the Myth"; Miner Enterprises, Inc; Ellen Adams of the Alice T. Miner Museum; and many others who were used as references for this article.
See below for more images of William Miner and his path to financing his future.